The Lab Assignments dashboard provides for the management and data entry associated with assigning geotechnical laboratory analyses to samples and their associated fees. This dashboard has four sections configured to display as horizontal tabs:
Click the desired tab to navigate to that portion of the dashboard. Select the Filter tab to display the EQuIS Geotech side menu.
Filter Tab
The Filter tab on the Lab Assignments dashboard contains a Map widget and a Data Grid widget (i.e, Boring ID Filter) configured to filter by location.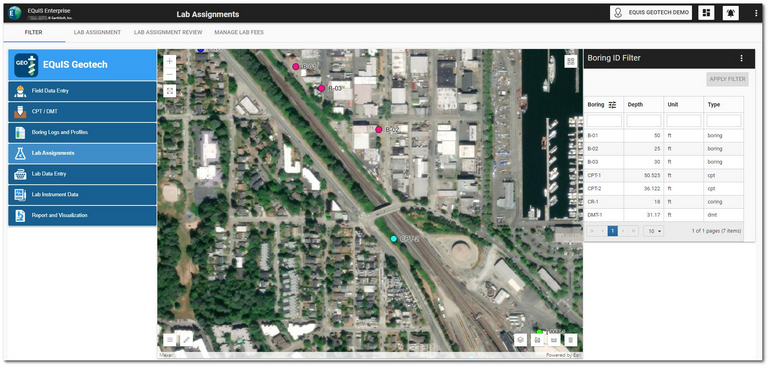 The Facility Layer on the Map widget can be configured to differentiate between the type of drilling/boring locations.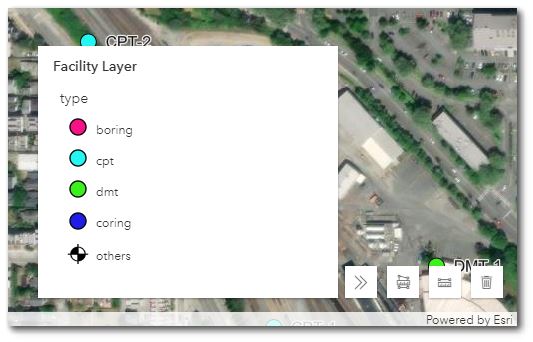 To filter the Map widget, select the desired boring(s) in the Boring ID Filter widget. Use the Shift and/or Ctrl keys to select multiple locations. Click the Apply Filter button to activate the filtering. The Boring IDs will be displayed at the top of the widget. Click the Clear button to clear filtering.
Lab Assignment Tab
The Lab Assignment tab on the dashboard contains a Web Forms widget setup to use the Geotechnical Field and Lab Data Entry Collect template designed for geotechnical laboratory data entry.

New data forms can be created either by using Collect or by selecting the Create Data Form button on the Web Forms widget header. If locations are selected in the Boring ID Filter widget on the Filter tab, new data forms will only display records for the selected location(s). Existing data forms will display all records when edited.
See the Web Forms widget help documentation for details about using the widget for data entry.
Lab Assignment Review Tab
The Lab Assignment Review tab on the dashboard allows users to review the assigned laboratory tests and then generate a .zip package that includes a Chain of Custody (COC) and the associated Lab Data Entry Forms for lab tests assigned to the selected sample(s). The tab contains a Data Grid widget configured to display Lab Assignment Data and an EZView widget (i.e., Download Lab Request Forms) configured with the Geotechnical Lab Forms report.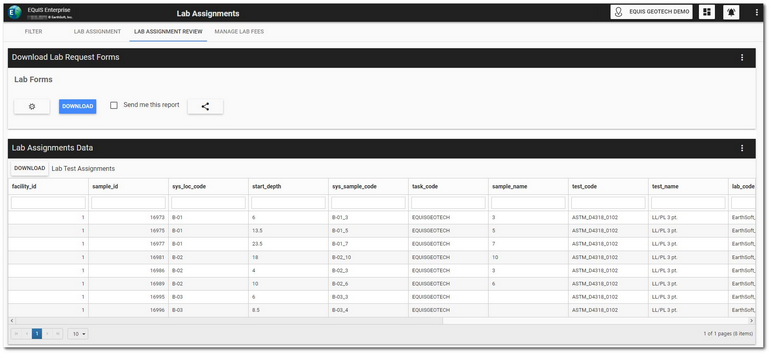 Click the Edit

icon to open the Report Parameter Editor to view/edit the report parameters. The report uses the EarthSoft_Geo_Lab_Forms.xlsx template file. Click the Download button on the Download Lab Request Forms widget to download the report output. The report can also be shared. See the EZView widget help article for more details.
Manage Lab Fees Tab
The Manage Lab Fees tab on the dashboard contains step-by-step instructions on how to use the EDP EDD Upload widget to upload Project Fee overrides with the Project_LabTestFees format file (see the Link Mapping Project Template files article).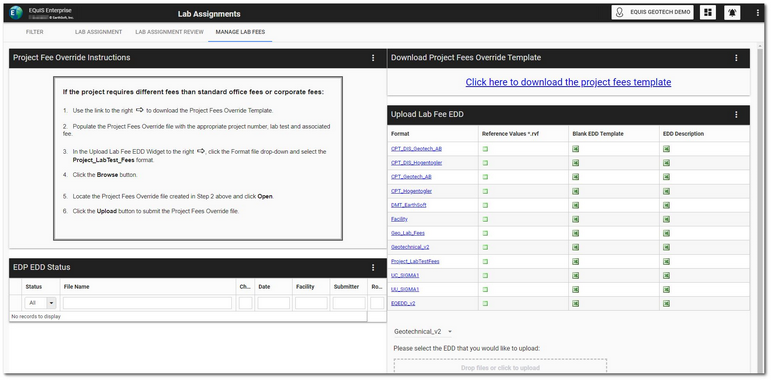 An EDP EDD Status widget is available to monitor the status of the uploaded lab fee override files.