To change the properties of the Map widget, open the Widget Editor by selecting the More Options

icon in the upper right corner of the widget to display the drop-down menu and then select the Edit menu option. The Map widget properties are divided into six tabs that are each described in separate help articles (see links):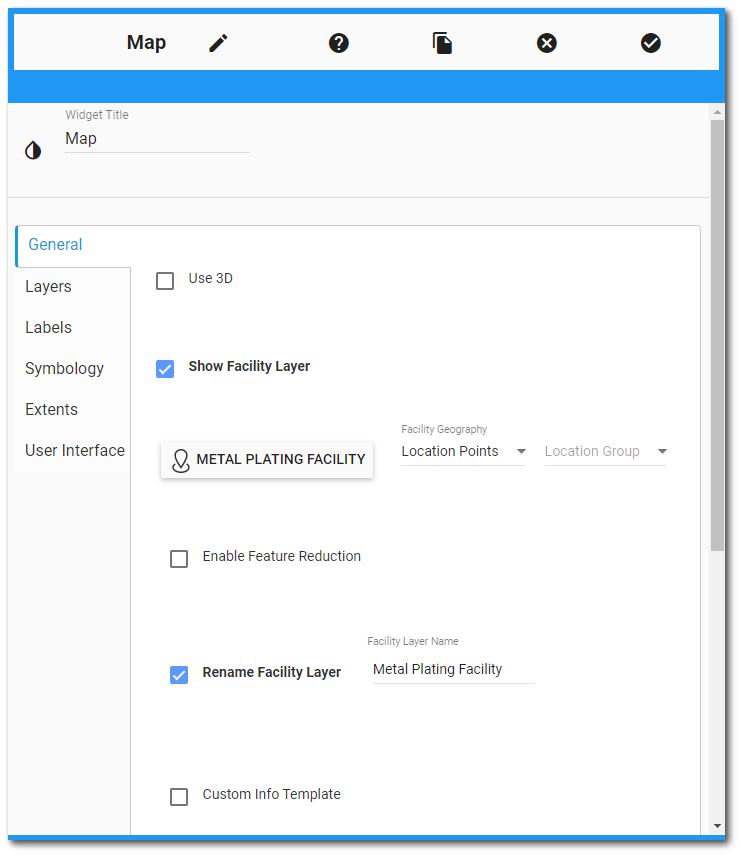 Note: Changes made on any tab will not be preserved until the user clicks Save on the Widget Editor header.
Widget Title – By default, the widget title is Map. The title can be modified.
Widget Color – The color of the widget can be changed using the Widget Theme

icon to the left of the widget title.
Widget Object Editor – To set various appearance properties of the widget, select the Object Editor

icon in the widget header to open the Widget Object Editor. See the Widget Editor article for more details.
Help – The Help

icon connects to the online documentation related to the specific widget.
Copy Settings – Select the Copy Settings

icon to to copy the settings from another widget of the same type. See the Copy Widget Settings article for more information.
Cancel – Select the Close without Saving

icon to exit the Widget Editor without saving changes.
Save – Changes will be applied to the widget by clicking on the Save

icon. The Widget Editor screen will close after the save operation is complete.