Section Fields are general, universal field values available for all fields on the form. Different forms will have different section fields but section fields are available for all forms in the template. Section fields generally start with the '#' sign.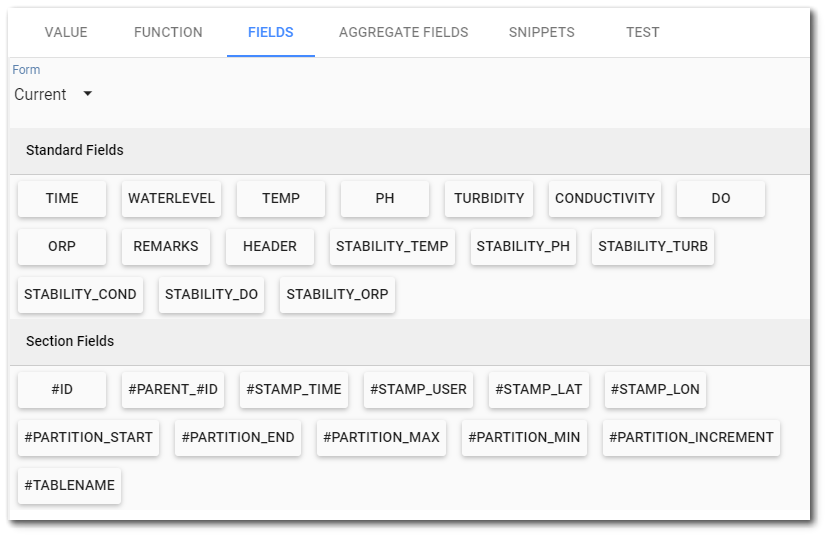 The following table describes each section field and some examples of how these fields can be used in Collect.
Field

Description

Example

#ID

Integer value automatically assigned to each unique form record.

Used with the GET() function to find or work with data from other forms.

#PARENT_#ID

Parent ID value associated with each child row.

Same as above example.

#PARTITION_END

Related to Data Sets in
Collect form templates.

See Data Sets for more information.

#PARTITION_INCREMENT

#PARTITION_MAX

#PARTITION_MIN

#PARTITION_START

#STAMP_LAT

Latitude captured at the creation of the form record.

Obtain coordinates to be used in downloading weather information via an API Service Field.

#STAMP_LON

Longitude captured at the creation of the form record.

#STAMP_TIME

Current date/time at the creation of the form record.

Autofill observation date/time.

#STAMP_USER

Username used to login to the server.

If username is the user's email address, autofill user's email address on the form.

#TABLENAME

Returns the form name in which the field is listed.

Identifies which form (subform) the field is in.
Additional Examples
#ID and the "Form" Field Type
"Form" fields are designed to pull or filter information from other forms within the same form template. In this example, there is a "Location ID" field in a "Sampling" form to show a list of location IDs coming from a set of pre-populated "Location" forms within the same template. The end user of Collect would select a location ID from the list, but the value set behind the scenes is the #ID value for the location ID they chose. This integer #ID is likely not the real location code value that is intended to map to a sample's location code (e.g., SYS_LOC_CODE). Use a GET() function in the Data Mapping for this field to acquire the location code instead, such as:
GET(EQ([Location.#id],[Location ID]),[Location.sys_loc_code])
This formula finds the "Location" form whose #ID matches the value set in the current form's "Location ID" field, and then returns the matching SYS_LOC_CODE from that record.