The EQuIS Alert Form automatically submits error occurrence information to EarthSoft, and supplements default exception errors with the latest available information about cause, workaround options, and available or pending resolution.
The form is available by request as an optional addition to EQuIS.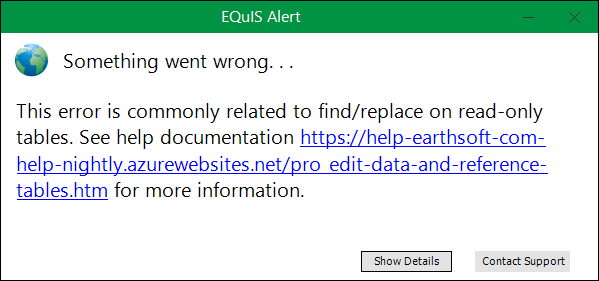 Installation
1.Request the EQuIS Alert Form from support@earthsoft.com.
2.Place the EarthSoft.Forms.Library.160666.dll in the EQuIS install directory "C:\Program Files\EarthSoft\EQuIS".
Features
•Latest updates on errors in EQuIS Professional
Note: The form handles application or system exception errors; it does not cover information messages such as "The UPDATE statement conflicted with the FOREIGN KEY constraint".
•Automatic error reporting to EarthSoft
What is Included in Automatic Error Reporting
•Details about the error and where it occurred
•Product version
•System information
Notes
•Contact information is not included in the automatic error report.
•To request more information or updates directly, contact support@EarthSoft.com using the Contact Support button on the EQuIS Alert Form.
•The form is not publishable by design.