Plot EQuIS Locations in AutoCAD
1.Click Plot Locations.
2.Select Layer (EQUIS_CAD_BLOB default).
3.Set Size (default = 1; 7 may improve display if no overlay, .0001 will improve display if coordinates are set to Lat/Long in DT_FACILITY.COORD_TYPE_CODE).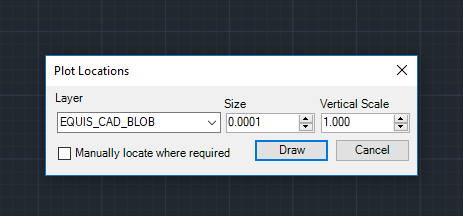 4.Set vertical scale.
5.Click Draw.
6.Select desired parameters.
7.Click the green arrow to run the report and plot the locations.
8.To zoom to the full extent of the objects added, select View > Navigation > Extents in the Navigation Bar.
The drawing block types used depend on the location type defined in EQuIS and are typically located at:
C:\Program Files\EarthSoft\EQuIS For AutoCAD\Blocks
Any field defined in RT_LOCATION_TYPE.LOCATION_TYPE_CODE and associated with a SYS_LOC_CODE in DT_LOCATION.LOC_TYPE can be assigned a location block in AutoCAD. When the block file name matches any LOC_TYPE in DT_LOCATION, this block will be plotted at the indicated coordinate location.
Note: To enable proper overlay, the EQuIS data must be in the same coordinate system as the AutoCAD data .
Copyright © 2023 EarthSoft, Inc. • Modified: 06 Dec 2022