Once EQuIS Professional has been installed, the following items will be required.
•Name of the server where the EQuIS Professional Database is located.
•Valid user name and password.
To obtain this information, contact an EQuIS Database Administrator. Log in to EQuIS Professional using Windows authentication or using an established (SQL Server) user name and password.
Note: When using network licensing, one EQuIS Professional Standard license will automatically be consumed on successful login.
Video
The EQuIS Professional Quickstart - Connect to a New Database, Facility or Facility Group - 2018 video is available to view here and can also be downloaded.
Launch EQuIS Professional
To open the EQuIS Professional window, execute the steps below.
1.Click Windows > Start.
2.Point to All Programs > EarthSoft.
3.Select EQuIS Professional.
4.EQuIS Professional will open to the backstage view.
Create New Connection
Create a New Connection to the Server and connect to a database by following the steps below.
1.EQuIS Professional will automatically open to the Connect tab.
2.Enter all database connection information.
3.Click Connect
.
4.Hover the mouse over each field to review the related tooltips with details on the expected values.
5.Select Server Type: Enterprise or SQL (select from drop-down).
6.Enter a Server Name: The name (or IP address) of the server that is being connected to. If the server name is unknown, contact the system administrator.
7.If using Azure Active Directory for user authentication, proceed to Sign in with Microsoft below.
8.Select User Authentication type from drop-down. See Additional Information box below for guidance on authentication types.
9.Enter User Name and Password information (select type from drop-down).
10.Connection String Options: Enter user-specific connection string options for database level connections. See Connection String Options below for details.
Note: Selecting the EQuIS Enterprise server type for Application Level Security connections will hide the connection string options. Refer to the EarthSoft Online Help article Configuration File for information on editing Connection String Options in the EQuIS.exe.config file.
Sign in with Microsoft
Enterprise users connecting to Professional may be authenticated with Azure Active Directory (AAD).
When configured (see Azure Active Directory for User Authentication), a "Sign in with Microsoft button is enabled on the login screen after entering the Server Name (Server Type = Enterprise).
Click Sign in with Microsoft.
The connection is redirected to https://login.microsoftonline.com/, which opens a new login prompt.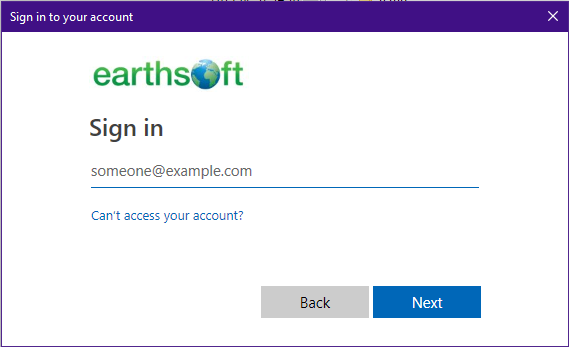 Enter the Email and Password MicroSoft AAD account credentials.
The user is directed back to Professional as an authenticated user.
The Microsoft account tokens are cached to allow one-click sign in until the token expires (per site settings). The token cache is stored at C:\Users\<user name>\AppData\Roaming\EarthSoft\msalcache.bin.
Open an Existing Connection
Note: Connections from previous versions of EQuIS Professional (*.xml format) are accessed from the Open tab on the backstage view. EQuIS Professional will automatically save the *.xml connection file as an .equis file. (The Autosave New Connection is enabled by default, see below).
4.When launched, EQuIS Professional opens to the backstage view.
5.Click Open tab from the left menu.
6.From the Open tab, select from the recent items/pinned connections or click Browse.
7.EQuIS will open to the users local Connections folder by default where the .xml (through version 6) and .equis (EQuIS 7) connection files are stored. If no .equis file is present, the file type in the Open dialogue will default to .xml.
Note: By default. connections are saved to your '\AppData\Roaming\EarthSoft\Connections' folder to the Connection Location. This feature can be modified through the Options menu in the backstage view.
8.Select the desired connection file to open.
9.After a connection has been established, click the database.
10.Double-click the desired facility to connect. See the help article Connect to a Facility or Facility Group for more details.
Connect to Facility or Facility Group
After a connection has been established, Connect to a Facility or Facility Group.
Autosave Connections
EQuIS Professional will automatically save new connections by default to the Connection Location. This feature can be modified through the Options menu.
•When Autosave New Connection is enabled, connections are saved after successfully connecting to the server.
•Automatically saved connections are saved as a new .equis file.
•The new .equis file will appear in the Recent Items* list on the Open tab of the backstage view.
*The Recent Items functionality assumes that "Show recently used files" is enabled in Windows Folder Options.
Connection String Options
The Connection String Options field is available for advanced connection string settings. For example, when connecting to a SQL Server Database with large datasets, it may be necessary to increase the Connection Timeout to avoid timeout errors. Timeout errors may occur anytime the database is accessed, commonly when first connecting to the database, but also when reference values are called when creating reports. Type Connection Timeout=xx in the Connection String Options field (where xx is the number of seconds) as shown below.
"Connection Timeout = 300;"
Notes about Connection Strings:
•Adding this option through the Connection String Options field will apply it to the current connection only.
•Be sure to include a semicolon (;) at the end of the connection string.
Additional Connection String Options
•For SQL Clients: Refer to the SqlConnection.ConnectionString Property page.
Additional Information: Which type of authentication should I use?
Contact a database and/or system administrator to find out what type of authentication to use. The administrator will either provide a username and password or grant a Windows domain user account permission to log in to the database.
The Authentication mode that the server is using is indicated in SQL Server Management Studio by right-clicking on the database engine name>Properties>in the Security Section.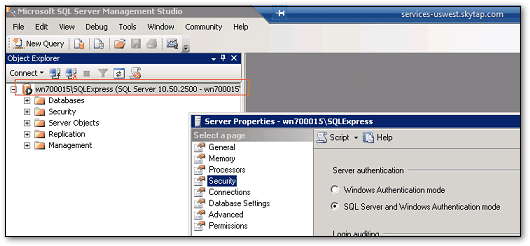 There are two possible modes, which are explained below.
Windows Authentication Mode
Windows Authentication mode enables Windows Authentication and disables SQL Server Authentication. Mixed mode enables both Windows Authentication and SQL Server Authentication. Windows Authentication is always available and cannot be disabled. When connecting through a Windows user account, SQL Server validates the account name and password using the Windows principal token in the operating system.
Mixed Mode
If Mixed Mode Authentication is selected during setup, the user must provide, and then confirm, a strong password for the built-in SQL Server system administrator account named sa. The sa account connects by using SQL Server Authentication. More information about this is available in the Microsoft Library article Choosing an Authentication Mode.
Only the roles of user indicated in the ST_LICENSE connection string will be used for the linking process. License Linking is independent of the individual logging in to a specific Professional Database.
EQuIS uses only the credentials of the user indicated in the connection string in ST_LICENSE for license linking. This user will need to have read capability on ST_LICENSE and read/write capability on ST_LICENSE_USE. The EarthSoft Online Help article Application Level Security has more information on configuring SQL roles. All other users will be able to access any database, regardless of their user roles.