One or more signatures can be electronically added to the end of any form in EDGE. To add a signature, click on Signature from the Setup drop-down on the Form tab.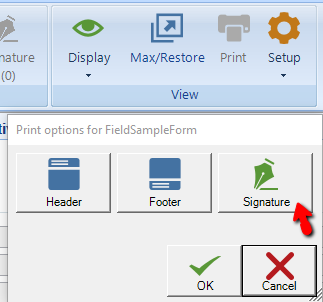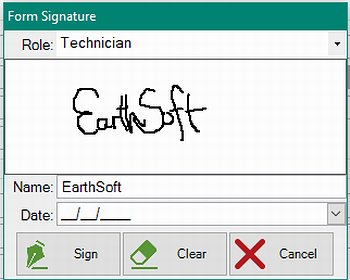 1.Select a Role, Name and Date when applying the signature.
2.Click Sign to apply the signature
3.To make edits after a signature has been applied, click the Edit button on the Form tab to clear the signature.
Note: The Edit button activates after a signature has been added to the form, at which time the Delete button will be disabled, along with all the fields in the form.
There is also the option to change the signature background by going to the Print Configuration. Go to Print Configuration to see more details.

Modify the Role Drop-Down in the Signature Window:
Select Signatory_Roles, located in the Enumeration section of the EDGE configuration, to add/remove/modify the Role drop-down.