The Setup allows the user to choose which data sections and corresponding fields (columns) to add to a form. To access to interface, select any EDGE Form tab and then select Setup from the Form tab.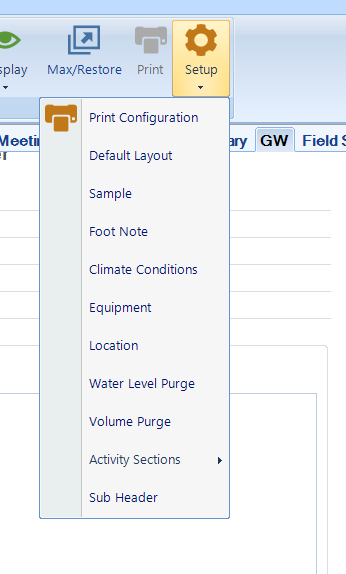 Data Section Form
To reorder the fields, highlight the required field and click the up/down arrows until desired layout is achieved. Select a field to customize it's properties, which are listed below.
•Display Name - a user friendly name for the section.
•Display Text - user friendly name for the selected field.
•Default - automatically inputs the value when a new sample record has been made.
•Field Size - determine the size of the field box. If you set it to automatic, it will auto-adjust depending on the character limit of the column fields.
•Spacing - adds the spacing between fields
•Read Only - Sets the field as read-only, meaning that it is not editable on the form
•Edit Drop-Downs - allows editing in the read-only drop-down fields
•Alert on Value Change - when set to true, will alert any changes made to the field.