Within any form in EDGE, access the Print Configuration feature on the Form ribbon by clicking Setup and selecting the Print Configuration option at the top.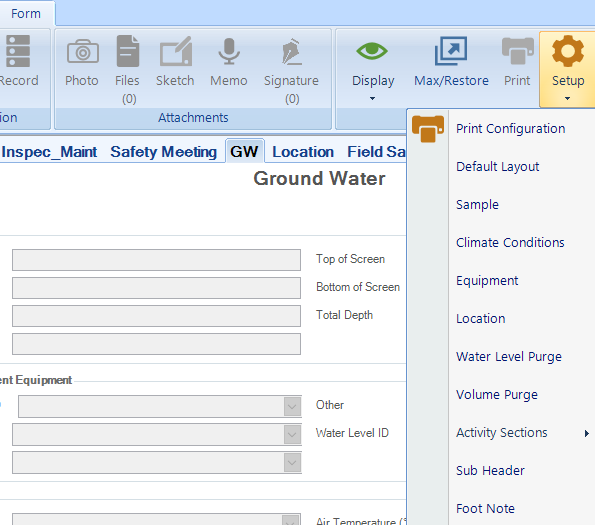 A Print options dialog will open.
This allows the user to add a customized header and/or footer, and a signature image background to a form.
Header/Footer Dialog
This dialog allows the user to fully customize the header/footer of a printed form. Customization of the header/footer includes a variety of features, including content and formatting. Any customization gets added to the list of features. The user may subsequently edit the features by simply clicking on one of the features.

Feature Types:
| | |
| --- | --- |
| Text | Page Number/ Date |
| | Note: Date will display the current date |
| | |
| Feature Fields | Image |
| Note: it adds the values of the specified column. | Note: Clicking the image window allows to open your image. |
Signature
The Print Configuration > Signature dialogue lets you choose a background image for signatures recorded on a form, which means that you only have to set the image in this dialogue for one form, then any and all forms will use the same image for their signatures.
Click in the "Signature Background Image" area to browse to an image which should be used as a watermark behind form signatures. This setting applies to all forms, not just the currently selected form.