•Grid
In EQuIS Professional, the data grid offers several options for viewing and exporting data in EQuIS tables, views, or grid reports. It consists of several areas:
•The grid toolbar
•The grid with the data records, or grids if expanding a row with the Add Related Tables feature (pictured below)
•The Add New Record row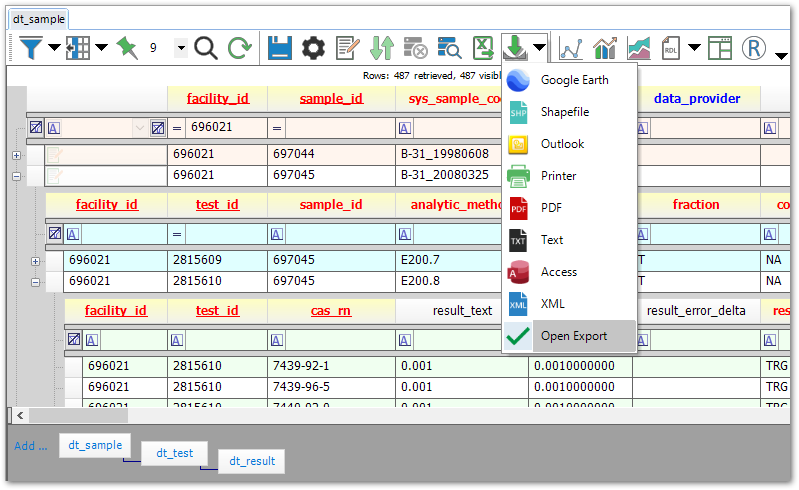 Grid
There are several components to the grid:
•Details on the displayed grid, such as the runtime or the number of records retrieved, visible (such as if a table or report has been filtered), and selected
•Column names
•A filter row, if filters are enabled
•Data rows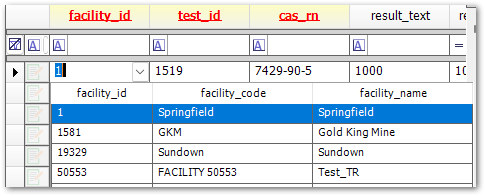 Data rows will include dropdowns in fields/columns with dates or with foreign key references to other tables. Some dropdowns, such as for FACILITY_ID or CAS_RN, will show information from multiple columns; only the value in the first column is used.
Context Menu
The following options are available after right-clicking within a grid:
•Related Tables – show parent or child table entries for each record (only available in tables)
•Column Chooser – configure how columns display
•Group By – turns on Group By mode, described below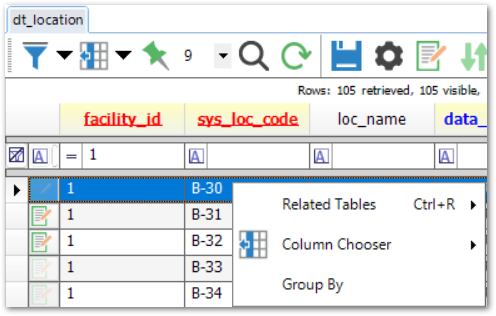 Group By
Right-click on the grid and select Group By to enable Group By mode. The Group By bar will appear in grey above the columns with instructions:

Drag a column to the Group By bar to group by that column. Drag a column out of the Group By bar to remove that grouping. Dragging multiple columns will group by each, in order: