In the EQuIS Professional File Menu, the About screen displays the following:
•the different build and version numbers for files within the installation
•an "Email Support" button
•a "System Info" button
If these buttons are not visible when EQuIS Professional is maximized, resize the window to access them.
The initial display shows the EQuIS.exe file properties. Select different files from the list on the left to show the build or version number for a specific file, such as a report.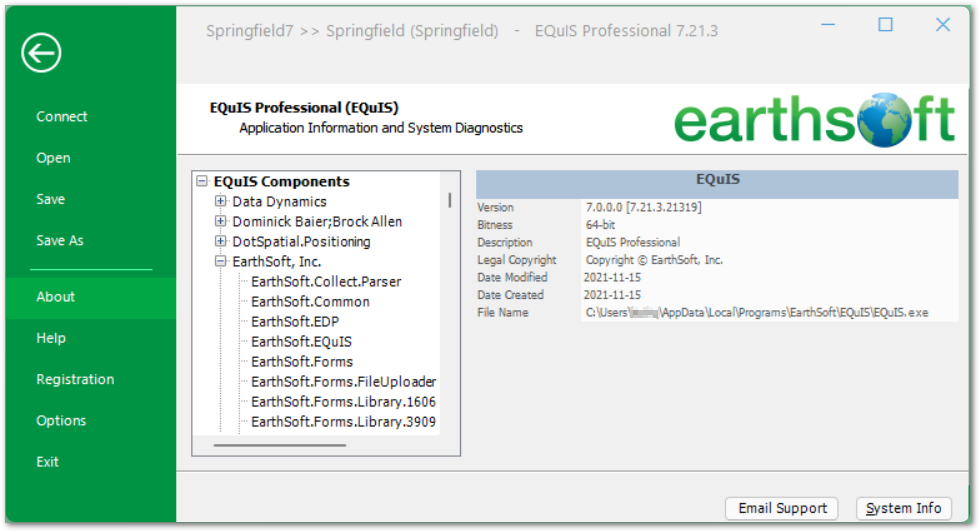 Build and Version Numbers
Builds of EQuIS Professional Version 7 end in the year and calendar day of the build's release (yyddd). For example, with 7.0.0.19300, the year of release was 2019 and the day was the 300th day of the year.
Starting in 2020, the year and quarter of the release are added into the build number. For example, the first release of EQuIS Professional in 2020 had the build number 7.20.1.20034, following a numbering schema of [version].[yy].[q].[yyddd].
Email Support
Click Email Support to launch the email provider with a draft email to EarthSoft Support. This email includes a spreadsheet export of the Build and Version Number information as an attachment.
System Info
Click System Info to launch the built-in Windows tool System Information. This tool can save an *.nfo file or print a PDF with the system's technical specifications for troubleshooting.