Report Name: Water Levels II
(previously Water Levels (Extra Fields))
Report Type: Standard
Description: The Water Levels II Report generates water level information. It is an improved Class Report version of the Water Levels (EQuIS func) Report. The Water Levels Report conveys information about water levels, LNAPLs, and DNAPLs stored in the DT_WATER_LEVEL table. This report uses specific logic for computing the corrected water level elevation, based on input parameters selected by the user. For more information, see Water Level Report Basics and the Water Level Elevation Correction Diagram. In addition, this report contains a hidden 'sigfigs' parameter that will allow configuration of the number of significant digits in the report output.
DT_WELL_SEGMENT of the Additional Fields drop-down list works with the default value of the SCREEN SEGMENT_TYPE. The value can be modified over ST_CONFIG by populating a new SEGMENT_TYPE value in STRING_VALUE of ST_CONFIG where CONFIG_SECTION=WL and CONFIG_KEY=SEGMENT_TYPE.
File Name: EarthSoft.Reports.Library.64102.dll
Language: English
Input Parameters: A selection made to customize the output of a report.
Extra Selects: The Extra Selects or @extra_select is a hidden parameter available for advanced users to configure in ST_REPORT_PARAMETER. It allows for supplementing report output with a combination result or formatted result using the fields available in the Additional Fields parameter. For example, if "CONVERT(VARCHAR(8),measurement_date,108) AS STime" is added to the DEFAULT_VALUE, a STime field with results like "18:58:00" will be included in the output.
The @extra_select parameter may be also used to generate 'permanent' output fields, for example, to include certain columns regardless of input selections.
Note: Extra Selects can decrease report performance.
All input parameters used by the Water Levels Report, in addition to the following parameters:
Input Parameters

Input Parameter Screenshot

Output Columns

| Location | | |
| --- | --- | --- |
| | Individual(s) | |
| | Group(s) | |
| Water Level | | |
| | Date Range | |
| | | Start Date |
| | | End Date |
| | Tasks | |
| | Reported Value | |
| | Calculation | |
| | Elevation | |
| | Depth | |
| *Water Level | Approval Code(s): | |
| *ebatch | | |
| *Water Level | User-estimated product density: | |
| *sigfigs | | defaults to 6 |
| *Water Level | Default Specific Gravity: | defaults to 0.8 |
| Additional Fields | | |

FACILITY_ID

FACILITY_CODE

SYS_LOC_CODE

LOC_NAME

LOC_GROUP

LOC_REPORT_ORDER MEASUREMENT_DATE

REFERENCE_ELEV

WATER_LEVEL

EXACT_ELEV

MEASURED_DEPTH_OF_WELL

DEPTH_UNIT

BATCH_NUMBER

TECHNICIAN

DRY_INDICATOR_YN

MEASUREMENT_METHOD

DIP_OR_ELEVATION

REMARK

EQUIPMENT_CODE

LNAPL_CAS_RN

LNAPL_DEPTH

LNAPL_THICKNESS

LNAPL_DENSITY

WATER_DEPTH

DNAPL_CAS_RN

DNAPL_DEPTH

DNAPL_THICKNESS

TASK_CODE

APPROVAL_CODE

X_COORD

Y_COORD

LONGITUDE

LATITUDE
* indicates hidden parameter
Tables: DT_WATER_LEVEL, DT_WELL, RT_ANALYTE_DETAIL, DT_LOCATION, RT_GROUP, RT_GROUP_MEMBER, DT_FACILITY, DT_MEASURE_DATUM, RT_UNIT, RT_UNIT_CONVERSION_FACTOR, VW_LOCATION
Optional other tables, if Additional Fields are selected:
•DT_WELL
•DT_DRILL_ACTIVITY
•DT_FACILITY
•DT_LOCATION
•DT_MEASURE_DATUM
•DT_TASK
•DT_WATER_LEVEL
•VW_LOCATION
•DT_WELL
•DT_WELL_SEGMENT
Database Type: SQL
Database Schema: Standard (no custom or add-on schemas required)
Database Version: EQuIS v7
Data Requirements: N/A
Report Requirements: N/A
Output Type: IGrid
Revision History: In version 7.0.0, the revisions below have been completed.
1.When one or more custom date formats of ..._yyyy..., e.g. DT_WATER_LEVELS.MEASUREMENT_DATE_yyyy, of Additional Fields are selected, the report generates an error message. The issue is fixed.
2.The fields of DT_WELL_SEGMENT are added to the Additional Fields parameter.
Example Output: View the following example.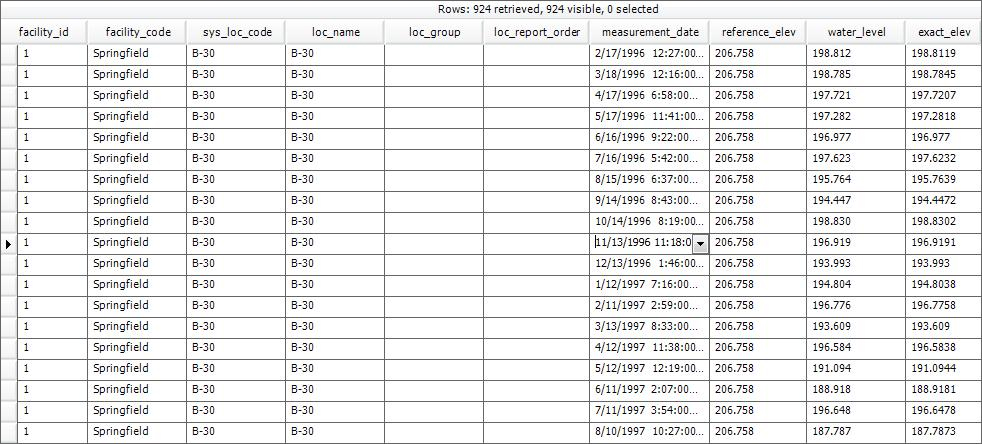 Note: The Location Name ("LOC_NAME" field) for this report is pulled from VW_LOCATION. Any location that does not have a correctly configured record in DT_COORDINATE (where DT_COORDINATE.COORD_TYPE_CODE = DT_FACILITY.COORD_TYPE_CODE and DT_COORDINATE.IDENTIFIER = DT_FACILITY.IDENTIFIER) will not be displayed. As a workaround, you can select the DT_LOCATION.LOC_NAME field as an "Additional Fields" parameter to display the Location Name from the DT_LOCATION table. This will be resolved in a future release of EQuIS Professional.
EarthSoft.Reports.Library._64102.WaterLevels