Report Name: Collect – GeoNotes (example)
File Name: EarthSoft.Reports.Library.149680.dll
Dependencies: Licensed Collect Module
Software: EQuIS Collect, EQuIS Enterprise
Source: EQuIS Collect install
Language: English
Output Type: Report Grid1
Description: The GeoNotes report returns inspection data stored in DT_NOTE. The report includes associated geography data (coordinates), allowing this report to be used with the Collect Map. It also includes files linked to the notes.
Installation Instructions: This report requires a licensed EQuIS Collect module and the Collect Schema applied to the database. For use, this report should be published to the database. When publishing the report, the assembly should be stored in the database. First download the EQuIS Collect xcopy zip from the community center, unblock the *.zip file and extract the EarthSoft.Reports.Library.149680.dll file to the EQuIS Professional installation folder. For default installations this directory is C:\Program Files\EarthSoft\EQuIS. The report will be available for selection once it has been published.
Overview:
The caption of the output columns can be modified using RT_REMAP table where REMAP_CODE ="collect_note" and EXTERNAL_FIELD= [DT_NOTE.NOTE_TYPE]. An example is shown in the image below. Using the Collect_Inspection format, a user can collect a variety of inspection data into DT_NOTE.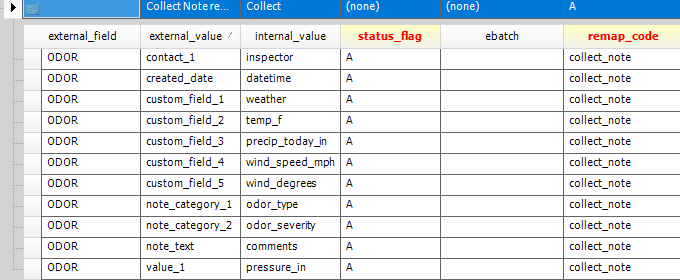 Tables: DT_NOTE, DT_GEOGRAPHY, DT_FILE
Report Parameters
| | |
| --- | --- |
| Facility | Parameter for selecting the facility. |
| Template(s) | Parameter for selecting template(s). |
| Technician(s) | Parameter for selecting technician(s). |
| Date Range | |
| Start | Start date parameter selection. |
| End | End date parameter selection. |
Report Output

FACILITY_ID

NOTE_TITLE

NOTE_TEXT

NOTE_TYPE

NOTE_CATEGORY_1

NOTE_CATEGORY_2

NOTE_CATEGORY_3

CREATED_DATE

DUE_DATE

STARTED_DATE

NOTE_DATE

RECURRENCE

CONTACT_1

CONTACT_2

CONTACT_3

CUSTOM_FIELD_1

CUSTOM_FIELD_2

CUSTOM_FIELD_3

CUSTOM_FIELD_4

CUSTOM_FIELD_5

VALUE_1

VALUE_2

VALUE_3

VALUE_4

VALUE_5

X_COORD

Y_COORD

AUTHOR

FILE_DATE

FILE_REMARK

PLACE_CODE

PLACE_TYPE

PHOTO

FACILITY_CODE
1The Report Grid provides additional export options to Excel, Google Earth, Outlook, Shapefile, PDF, Text, Access, XML, or a printer.