EDD Display
There are general concepts that govern EDDs.
Location_v1 EQEDD Format
This is an example of the EQEDD format. It has the following general characteristics by default:
•The first row defines the data that you add to each column.
•The second row indicates the type and length of the field.
•Data that is in red typically indicates fields that are required by the database.
•Data that is in red and underlined indicates a primary field; primary fields are usually required.
•Data that is blue indicates a field that is linked to a Reference Table.

EDD Description
To open the EDD description for a particular format:
1.Open EDP.
2.Ensure that the proper format is loaded.
3.Click on the EDD Description button in the ribbon.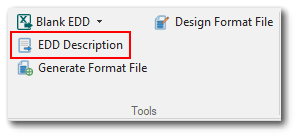 4.Excel will open a workbook. Each tab along the bottom will go to a sheet that describes an individual file.
Additional Information:
•The EDD Description Excel file includes a hidden Enumerations tab that displays the drop-down options for each field with enumerations. This is accessible by right-clicking on any worksheet tab, and selecting Unhide.
•In EDP, when exporting a Format EDD description to Excel, the Custom Checks tab can be included in any Format EDD description. This tab will list the Custom Check descriptions and the applicable fields and sections, and will be available upon request to support@earthsoft.com.
Blank EDD
Blank EDD will export an Excel workbook of the opened Format File. This can be filled out and used later for importing data using EDP.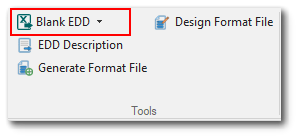 Tips:
•In EQuIS Enterprise, holding down the SHIFT key while selecting Blank EDD will export a Blank EDD that also includes the valid values as drop-down lists.
•In EQuIS Enterprise, holding down the CTRL key while selecting Blank EDD will export a Blank EDD that includes the parent values (aka foreign key) within a drop-down list.
•When exporting a Blank EDD or EDD Description, EDP will use the header column coloring from EDP for columns that are required, primary keys, and lookup columns. A format information tab has also been added to the Excel file that includes the coloring legend, format name, and format version.