Open the Open Window
To open the Open window, click any button in the Open group (located on the Home tab). Depending on which button is selected, (Tables

, Reports

or Forms
), the corresponding icon will be highlighted in the Open window and items of that type will be displayed.
To open an item (table, report, etc.), do one of the following:
•Click and select the item, then click the Open button.
•Double-click the item.
Tip - Opening Multiple Items: To open multiple items at the same time, select each item (using the SHIFT or CRTL key), and click the Open button.
Data Tables
Open Tables and Views
When opening a table or a view, a drop-down appears at the bottom of the box and offers three different options for opening the table or view.
| | |
| --- | --- |
| Option | Definition |
| Table | The Table option will open just the table or view (with no data). Build a query by establishing filters on desired columns. The Refresh button, when selected, will retrieve just the data that satisfies the established filters. This mode is ideal for retrieving a small subset of data. |
| Table (all rows in facility) | The Table (all rows in facility) option will open the table or view with all of the rows for the current facility. Most of the tables in the database contain data for multiple facilities. This option shows only the data for the facility that is currently being worked on. |
| Table (all rows in database) | The Table (all rows in database) option will open the entire table or view, regardless of which facility the data belong to. Use this option only when necessary, since opening an entire table or view may take a long time and consume a lot of system resources. This option is not available when using application level security (i.e. logged into EQuIS Professional using an EQuIS Enterprise Login). |
Favorites
Right-click and select Add to Favorites from the menu to save a table, view, report or form to EQuIS Favorites.
Create a name and organize favorites using folders. The selected item will be added to the Favorites list; click Favorites on the Home ribbon to access.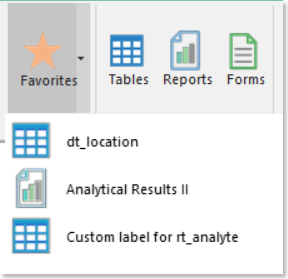 Favorites on Professional Home Ribbon
EarthSoft.Reports.Forms.OpenDialog EarthSoft.Reports.OpenDialog