Report Name: Analytical Report (16719)
Report Type: Standard
Description: This is a Crosstab Report that includes the following details:
•ColumnHeaders: CHEMICAL_NAME, REPORT_RESULT_UNIT
•RowHeaders: SYS_LOC_CODE, START_DEPTH, END_DEPTH, SAMPLE_DATE, LOC_GROUP
•TabbedData: REPORT_RESULT_TEXT, Qualifier
It also adds the following notes to the bottom of the Crosstab:
Qual = Data Qualifiers: J=estimated, U=below detection limit, UJ estimated as non-detect
mg/L = micrograms per liter
PCE = tetrachloroethylene
TCE = trichloroethylene
bgs = below ground surface
File Name: EarthSoft.Reports.Library.16719.dll
This report is included in the initial EQuIS 5.5 installation.
Language: English
Input Parameters: A selection made to customize the output of a report.
Input Parameters

Input Parameter Screenshot

Output Columns

Saved Analytical Results Report

Qualifier

SYS_LOC_CODE

SYS_SAMPLE_CODE

SAMPLE_DATE

SAMPLE_DATE_CODE

START_DEPTH

END_DEPTH

MATRIX_CODE

TASK_CODE

TASK_DESC

FIELD_SDG

LAB_MATRIX_CODE

ANALYTIC_METHOD

COLUMN_NUMBER

Fraction

LEACHATE_METHOD

LEACHATE_DATE

LAB_SDG

METHOD_ANALYTE_GROUP

REPORT_ORDER

CAS_RN

CHEMICAL_NAME

ORGANIC_YN

REPORT_RESULT_TEXT

REPORT_RESULT_VALUE

REPORT_RESULT_UNIT

REPORTABLE_RESULT

DETECT_FLAG

INTERPRETED QUALIFIERS REPORTING_DETECTION_LIMIT DETECTION_LIMIT_UNIT

APPROVAL_CODE

RESULT_TEXT

RESULT_NUMERIC

RESULT_UNIT

X_COORD

Y_COORD

Z_COORD_AVG

Zfrom

zto
Tables: DT_FIELD_SAMPLE, DT_STATIC_PROPS, DT_TEST, DT_RESULT, RT_ANALYTE, RT_MTH_ANL_GROUP, RT_ANALYTE_VAR, VW_LOCATION, DT_TASK, RT_MTH_ANL_GROUP_MEMBER
Database Type: SQL
Database Schema: Any EQuIS 5.5+
Database Version: Any EQuIS 5.5+
Data Requirements: Excel
Report Requirements: Excel
Output Type: Excel
Example Output: View the following example.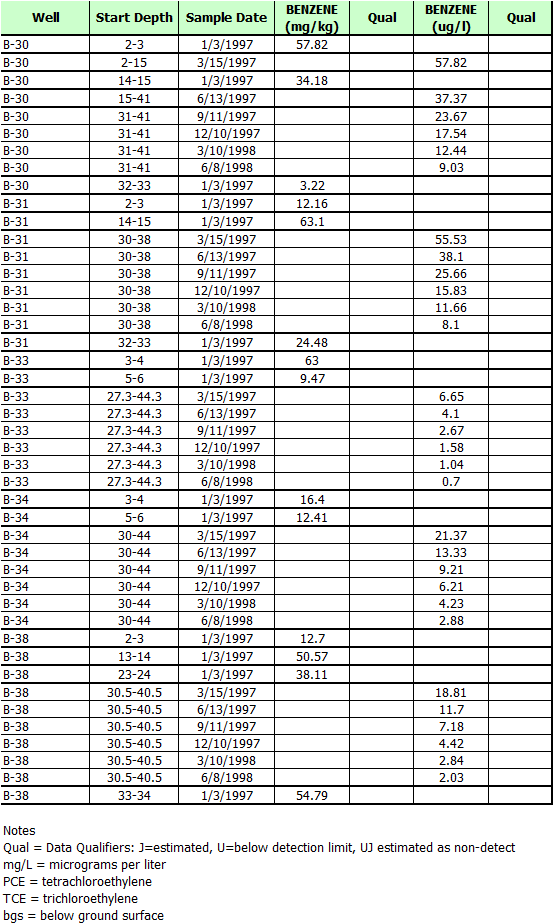 EarthSoft.Reports.Libr ary._16719.MultiGroupAnalyticalReport