Forms provide a convenient method of viewing and interacting with EQuIS data. More information is provided in the Forms chapter of the Library help.
Click the Forms button in the Open section of the Professional Home tab to access.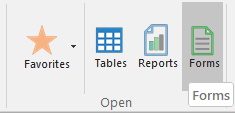 Form files typically follow the naming scheme "EarthSoft.Forms.Library.[ID].dll". Publish to the database after unblocking the file (if needed). EQuIS Professional allows Database-Level Security (DLS) users or Application-Level Security (ALS) administrators to publish forms to the EQuIS Database. ALS users who are not administrators may not publish a form. To publish do one of the following:
1.Click Publish, then Publish Forms in the Import section of the Home tab.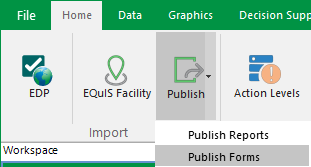 2.Click the Forms button on the Home tab, and then click Publish.