SPM Enterprise can batch schedule tasks within the Scheduler tab similar to the Batch Processor functionality in SPM Desktop. Once the task is scheduled, the status can be viewed on the Status tab.
Prerequisites
The Batch Scheduler Agent needs to be enabled and running. This can be done inside the Workflow widget's editor under the BatchScheduler tab.
Steps
1.Select a session facility. The Schedule button will not work within a facility group.
2.Navigate to the Scheduler tab on the SPM dashboard.


3.Select one or multiple planned task codes under the Tasks section.
Note: Only planned task codes in the same sample plan and facility can be selected at the same time for this functionality to work.
4.Click the Schedule button in the upper right-hand corner.
5.Select an Action and Date Range: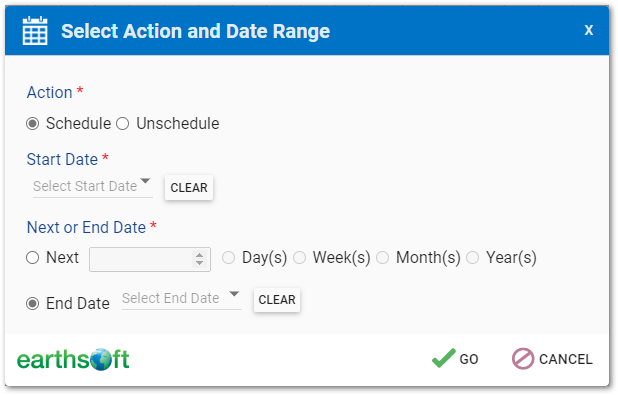 a)Keep the selected Schedule option or select Unschedule for the selected planned task codes.
b)Input a start date.
c)Select either Next or End Date options:
•Next to set a range of time to schedule/unschedule tasks.
•Input an end date.

6.Click Go.
A "Please fill in the required form fields" message will appear if a required field is missing.
7.The dialog will close and a BatchScheduler task will be created for Workflow to process.
The status of the created BatchScheduler task can be viewed in the Status tab. The results of the task will be shown in the calendar after the task has completed successfully and the page refreshed.