EDGE has the ability to merge multiple EDDs into one. The Merge EDD button is located in the Application Menu: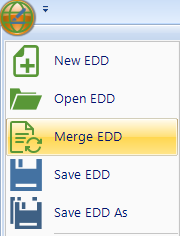 Prior to merging EDDs, consider the following:
1.There cannot be any COCs prior to merging. Merging EDDs with COCs will cause duplicates containers and results, and leave the COC_v1 EDGE section blank.
2.Any SPM EDD scheduled to be merged should not include rows that are incomplete (i.e. samples with an SPM alert). Incomplete samples should be removed from the EDD prior to merge. The incomplete records will override the SPM data of an existing completed record in the merged EDD, and will cause the completed samples to be unavailable during COC creation.
Merge EDDs
1.Open EDGE and create a blank EDD
2.Click the application menu button, then Merge
3.Navigate to the first EDD
4.Repeat as needed for additional EDDs
5.Click Save EDD to complete the merge process