Within the COC Manager, users may filter the analyte groups for selection according to those that have been assigned to the selected tasks in EDGE. For more information on steps prior to this feature, see the Create Chain of Custody article.
To enable the filter
1.Click the Filter option at the top-left of the Add Samples to COC screen.
2.Check the Enabled check box.
3.Check the box next to each of the relevant task(s) for the selected samples. Options available are:
a.Select All
b.Select from COC
c.Select None
4.The filtered analyte groups are available in the Task Group tab.
In the graphic below the enabled filter shows that there are no Task Groups associated with these tasks.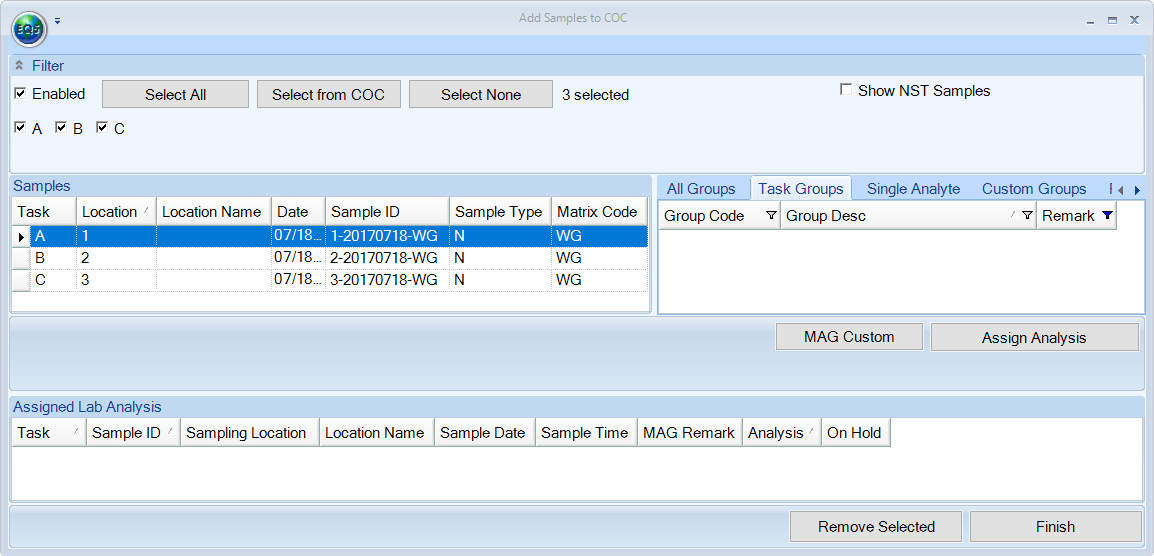 To associate Analyte Groups with Task Codes
The Analyte Groups are associated with Task Codes in EQuIS Professional as follows:
1.Open EQuIS Professional
2.Enter the Task Code in RT_MTH_ANL_GROUP.REMARK.
3.Separate multiple task codes by a comma or a semi-colon.
4.Save.
5.Export the reference values through EDP as explained in Create a Reference Value File, and then open the new reference values file in EDGE as explained in RVF Selection.