Anyone with owner permission on a particular object (e.g., dashboard, report, file, etc.) may view/edit the permissions of that object using the Permissions tool. This tool may be accessed by by right-clicking an object in the Explorer Widget.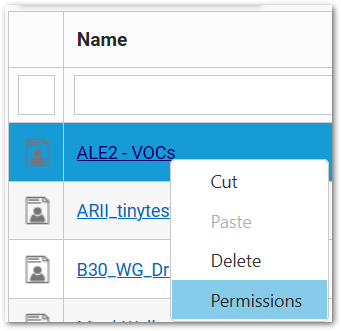 The first column in the Object Permissions grid indicates if the name is a user

or a role

.
Use the Name Search Box to search for specific users. Administrators may do a partial search (e.g., search for all email addresses containing 'earthsoft.com'). To preserve confidentiality, non-administrators may only search for exact email addresses (e.g., other users that they already know).
Use the permissions grid to the right of the user/role name to view/edit permissions on the object. Click the effective permissions column to see why the user has that effective permission on the object.
Click the Save button to save any permission changes. Click the Cancel button to close the window without saving any changes.