Group Maintenance allows you to save a selection of a group of analytes, locations, materials, facilities or subfacilities for reporting and graphing. For example, instead of selecting individual samples every time a report is created, group maintenance allows the creation of reports using saved groups of analytes, locations or materials.
Selecting and saving groups for reporting and graphing functions ensures that the same samples are reported each time a report is run, preventing omission of any member of the group.
Open Groups Form
To begin using the Group Maintenance Form, click Groups on the EQuIS Professional ribbon and complete the steps below.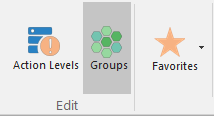 1.Select a group type.
2.Create a new group.
3.Add group members.
Note: If creating a new facility group, the name of the facility group cannot be the same as one of its members.
Group Details Tab
•The Groups Form only shows groups with RT_GROUP.STATUS_FLAG = "A".
•The Show Groups for All Facilities check box is unchecked by default the first time the Groups Form is opened.
•The settings for the Show Groups for All Facilities check box will persist when the Groups Form is reopened.
•When a location group is added via the Groups Form, the FACILITY_ID for the group (RT_GROUP.FACILITY.ID) is set to the current facility by default.
Choosing, Sorting, Filtering, Pinning in Group Members Tab
| | |
| --- | --- |
| Choosing | The column chooser is available to show/hide columns in Group Member and Available Member grids. |
| Sorting | Any column in the Group Members tab can be sorted in ascending or descending order by clicking the column header. Then the column sort indicator shows the direction of the sort (e.g. indicates Sort Ascending). REPORT_ORDER allows you to determine the order of group members as they appear in reports. |
| Filtering | Any column in the Group Members tab can be filtered by clicking Filter on the toolbar. |
| Pinning | Any column in the Group Members tab can be pinned to allow viewing the columns in the Available Members or Group Members grids. Click Pin on the toolbar. Any column may now be pinned by clicking on the smaller Pin buttons that appear in the column headers. |