Form Name: RVF Builder
File Name: EarthSoft.Forms.Library.66112.dll
Software: EQuIS Professional
Source: EQuIS Professional install
Description: The RVF Builder Form allows for creating reference value files (*.rvf or RVF) from EQuIS Professional. Individual reference tables can also be manually included.
Installation Instructions: The RVF Builder form is included with the EQuIS Professional installer. No additional steps are necessary.
Overview:
When a format is opened, the form will select all the reference tables associated with that format. Only reference values that have been given a status_flag of "A" will be returned.
Some tables (RT_GROUP, RT_GROUP_MEMBER, RT_MTH_ANL_GROUP, RT_MTH_ANL_GROUP_MEMBER) can contain records that are associated with a facility or facility group. These tables will export the values associated with the current facility, and those with null facility_id values.
If a facility group(s) is selected, reference values associated with the facility group will also be exported (along with reference values for current facility, and those with null facility_id values). When logged into a facility group, a user can select any facility group.
If a format uses DT_LOCATION as a lookup, only the locations from the current facility will be exported.
Create RVF
1.Open EQuIS Professional.
2.Select Forms.
3.Select RVF Builder.
4.Click the Open Format icon to open a format. This will include all applicable reference tables associated with a given format.
5.Click the Save RVF

icon to save the RVF once all selections have been made.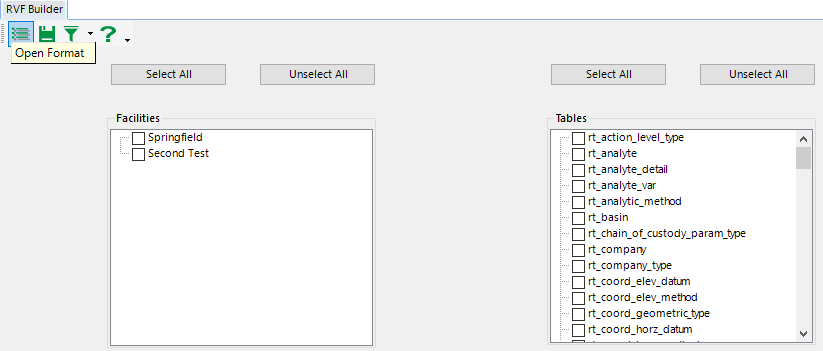 Note: Select the drop-down menu from the Save As window for the option to save the reference value file as *.xml or *.xls.