To create a new form template, select the New Form Template button on the Form Designer page.
Choose the New Form Template option on the Form Templates window.
The Form Template Layout window opens, allowing full and flexible customization.
The Form Template Layout consists of the following features:
•Main template details on the left side of the page.
•Building fields on the right side of the page. These fields will constitute the forms.
•Options to Save, Close, or Publish and Close the template are at the top of the frame.
After the template details have been entered, select the Save button to be able to build forms and add fields.
Form Template Details
When creating a new template, complete the following details. Note that the Red Bold* details are required fields.
•Name – Template title, as specified by the template builder. Title should be clear and concise.
•Version – Version number, as specified by the template builder. While developing a form, a good practice is to increment the version number.
•Description – Summary description of the form. The description should provide sufficient detail to allow the user to understand the purpose of the form.
•Type – Form type, as specified by the template builder. Provide consistent form types to assist users of the Collect Mobile app.
•User Groups – User groups to which the template has been assigned. This field allows for distribution of the template to specific users, as part of a designated group.
•Format – Template format, selected by drop-down menu. Collect Enterprise allows full flexibility of the EDD formats used to design a template. Any of the already known formats may be used (e.g., Geology EDD, EDGE, EFWEDD, EQEDD) or None. Selecting None allows the user to fully customize from scratch the format to be used with the template, based on the tables and sections available in the database schema.
•Mobile Reports Button – The Mobile Reports button is used to assign a report to a form template. See the Mobile Reports article for more detail.
•Pre Population Button – Forms can be pre-populated with data and then made available on the Collect Mobile app. See the Pre-Population of New Form article for more detail.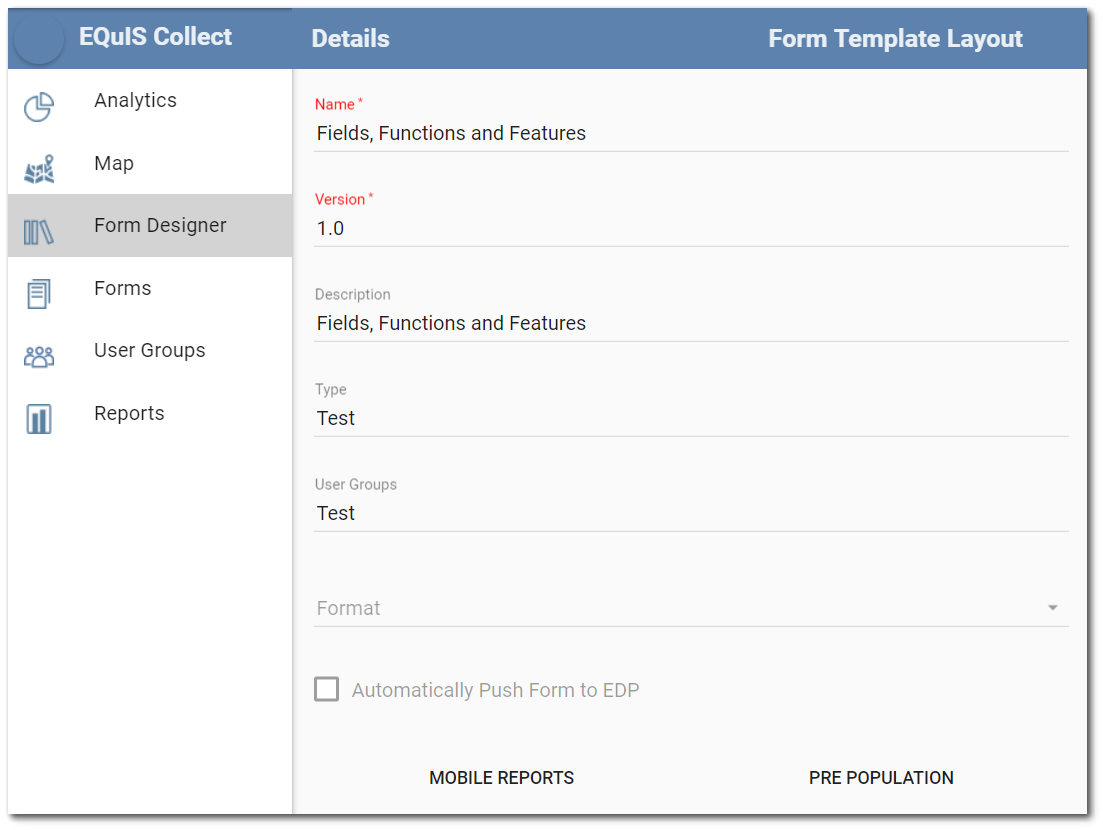 A full explanation of the form building process is described in Forms and Fields.