Keywords: active, reports, design, opening reports, reports designer
In many cases, EQuIS clients need to produce reports with a highly specific layout and design. This layout might include a corporate logo, page numbering, standard headers/footers, etc. In most cases, these reports will eventually be used as PDF files or printed hard copies. Active Reports is a third-party component manufactured by ComponentOne that is embedded within EQuIS Professional to provide layout-specific reporting functionality to users. EarthSoft selected Active Reports from a variety of third-party tools for several reasons, including extensive reporting API, very low runtime overhead for workstations and servers, completely managed .NET implementation, and royalty-free distribution (i.e., no additional license cost for end users). EQuIS Professional includes an end user report designer that allows users to define their own custom reports. The end user report designer may also be used to publish a report to the database so it can be used by other EQuIS users (both EQuIS Professional and EQuIS Enterprise).
An Active Report will appear on the list of available reports in EQuIS Professional if it has been published to the database using the end user report designer. When a report is published to the database, the report definition (report name, parameters, etc.) is stored in the database (ST_REPORT and ST_REPORT_PARAMETER tables) and displayed to the user within EQuIS Professional. After a report has been published, it is automatically available to all EQuIS Professional users that have permissions to access that database.
An Active Report will also appear on the list if it has been saved to an *.rpx file in the same folder where EQuIS Professional is running. For example, suppose a report is designed, but isn't ready to be published in the database. In this case, the report can be saved to the local computer in the same folder where EQuIS Professional is located (e.g., ~Program Files\EarthSoft\EQuIS\My Report.rpx). The next time you run the application, My Report (the file name without the .rpx extension) will show up on the list of reports. Because it is saved locally and not published to the database, the report will only be available to the user of the local computer. If desired, it is possible to send the *.rpx file to another user who could save it to their local computer, and it would be available for them also.
Additional Active Reports information and help is provided by Active Reports and can be found here.
| | |
| --- | --- |
| | Note: Active reports do not currently support the Crosstab functionality of EQuIS Professional. |
To open the Reports Designer, click the Active Reports button (located in the Edit group of the Home tab).
Feature: A feature has been added so that the data source icon (icon next to Detail1 label) can be hidden for non-application level security users in Active Reports. The data source icon can be hidden for all users or for a specific user by adding a row to ST_CONFIG.

CONFIG_SECTION=EarthSoft.Reports.ActiveReports
CONFIG_KEY=HideDataSource
OBJECT_TYPE=<user name> or null
STRING_VALUE=True or False
Click to view the Office Hour video, Active Reports.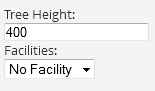 You can also view the video at Screencast by clicking the icon above.