Keywords: baseline, action level exceedance, report, 112364
Report Name: (Beta) Baseline Action Level Exceedance with parameters
Report Type: Standard with Baseline Sampling Module
Description: This report builds on the standard EarthSoft Action Level Exceedance Report to include DT_SUBFACILITY and DT_LOCATION_PARAMETER output required for the Baseline Sampling workflow.
This report is the grid-report basis for the Excel output report: Baseline Analytical Results Internal, which is for internal review. It is designed to output all sample data, organized by Property Owner, associated with the selected Property Owner(s), County, or State, etc. To aid in performance, when a property owner(s) is selected, the start and end dates are automatically adjusted to reduce the time necessary to retrieve the relevant data.
This report runs the standard beta-Action Level Exceedance report in the background to match and compare analytical results to the action level selected.
If there are multiple DT_LOCATION_PARAMETER.PARAM_VALUEs included in the selected data, the report will output the data with the most recent MEASUREMENT_DATE for the given combination of FACILITY, SYS_LOC_CODE, and PARAM_CODE in DT_LOCATION_PARAMETER.
File Name:
EarthSoft.Reports.Library.106210.dll

Language: English
Input Parameters: A selection you make to customize the output of a report.
Input Parameters
Input Parameter Screenshot
Location

Individual(s)
Group(s)
State(s)
County(s)
Property
Owner(s)
Sample
Type(s)
Date Range
Start Date
End Date
Most Recent Sampling
Matrix(es)
Task(s)
Task_Code_2(s)
Field SDG(s)
Depth
Minimum Start Depth
Maximum End Depth
Maximum Start Depth
Minimum End Depth
Unit
Test
Method(s)
Fraction(s)
Column
Number(s)
Type(s)
Lab Matrix(es)
Prep Method(s)
Lab SDG(s)
Result
Analyte
Individual(s)
Group(s)
Unit
Type(s)
Detect Flag(s)
Non-Detect
Multiplier
Non-Detect
Symbol
Non-Detect
Qualifier
Reportable
Validated
Reporting
Limit
Additional
Fields
Action
Level
Action Level(s)
Comparison
Operator
Unit
Flagging
Show Results
Flag Non-Detects
Show All
Exceedance Flag
Warning Flag
Matching
Match Start-End Dates
Match Seasonal Dates
Match Depths
Match Fractions
Match Methods
Match Subfacility
Match Facility
Include
Custom Fields from:


DT_ACTION_LEVEL

Custom Fields from:


DT_ACTION_LEVEL_PARAMETER

Date Field from:


DT_ACTION_LEVEL

Depths Fields from:


DT_ACTION_LEVEL
Note: * refers to hidden parameters.
Tables: DT_SAMPLE, DT_TEST, DT_RESULT, DT_SUBFACILITY, VW_LOCATION, DT_TASK, DT_FIELD_SAMPLE
DB Type: SQL
DB Schema: Standard (no custom or add-on schemas required)
DB Version: EQuIS 6+
Data Requirements: Land owner (subfacility_code) data associated with locations that include SampleTestResult data
Output Type: IGrid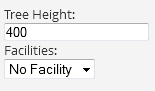 Contact support@earthsoft.com for more information.