Keywords: multiselect, parameters, checkboxes, 71679, 86038, hnm 15251
Starting with Professional v5.6.2, a check box column has been added to the parameter lists. Selecting a checkbox will add the item to the parameter, deselecting will remove it. Since the parameter value is based on the selected checkboxes, filtering does not remove the values. Additional features of the parameter selection interface are as follows:
Boxes do not have to be directly checked for each row that wants to be added to the selected list for a report parameter. Clicking anywhere in the row will select the item.
Extending selections via shift-click and control-click, as well as selecting multiple items via click and drag all function appropriately.
Selecting many items for a parameter, then selecting another parameter outside of this set, then removing just one item from the selected items in the initial set functions as intended.
It is possible to make selections for a single parameter, (eg sys_loc_code) then make selections to another parameter (eg matrix) then return to your initial parameter and add or remove selections. The initial selections are not lost.
To multi-select in the checkbox list, check the first item, then hold down the shift key, then Shift+Select or Alt+Select additional items.
To uncheck multiple selections, uncheck the first location then hold Shift and select the last location. This will uncheck the selected locations.
The empty row with a checkbox at the top of the list (shown below) can be used as a placeholder to start the check or uncheck using the Shift or Alt buttons to select multiple locations.
The filter row at top has a check box (shown below), which can be used to display all selected or all those not selected.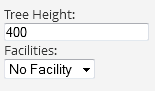 Parameter Selection Menu with Filter Row and Placeholder Row Highlighted