Keywords: action levels, copying action levels, copy action levels, save, hnm 15064
1. In the Action Level Maintenance window, highlight the Action Level to be copied.
2. Select the drop-down next to Add New Type/Code.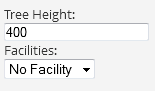 3. Select Copy Action Level Code.
4. It will make an Action Level Code called "Copy of xxxx", that includes all the Action Level Parameters.
5. Save.
| | |
| --- | --- |
| | Note: In Professional v6.2.2 SP2 and earlier, special characters such as commas are disallowed in the ACTION_LEVEL_CODE field. Including special characters in the ACTION_LEVEL_CODE field will cause errors when trying to call the action level in reports. |